Istanbul Provincial Directorate of Family, Labour and Social Services (IFLSS)
Istanbul Provincial Directorate of Family, Labour and Social Services (IFLSS) is a public institution providing services for children, women, families, the elderly people, the disabled, martyrs and veterans, Roman people and refugees. Our Provincial Directorate implements and conducts social services for disadvantaged individuals and families who are in need of protection, care and socio-economic support.
The main service units of our Directorate are: Child and Youth Service Branch, Elder Service Branch, Disabled Service Branch, Adoption and Foster Family Service, Creshes and Day Care Centers Services Branch, Family and Community Services Branch, Women Status Services Branch, Martyr and War Veteran Services Branch are the main bodies of the Directorate. It renders social services to these groups through 86 insitutions; Social Service Centers, Orphanages, Child Homes, Child Support Centres, Preventing and Monitoring Domestic Violence Center, Women Guesthouses, Disabled Care- Rehabilitation and Family Consultancy Centers, Elder Care and Rehabilitation Centers/ Rest homes, Youth Camp Transfer Center for Unaccompanied Children (children refugees).
istanbul@ailevecalisma.gov.tr
Governorship of İstanbul / GoI
The Governorship of Istanbul is in charge of regulating and supervising the general administration and progress of Istanbul. It implements the instructions and orders from the ministries by ensuring the announcement and implementation of laws, statutes, regulations and government decisions. It is the representative of the central administration in the province and is the highest administrative institution within the provincial borders. It provides services in various fields with its approximately 300 employees.
Istanbul Governorship European Union and Foreign Relations Office carries out national and international projects on behalf of our Governorship. Priority is given to supporting disadvantaged groups such as individuals with disabilities, immigrants, women, NEETs and adults. In this context, it works with many public institutions, universities, youth and adult education centers, vocational training centers and non-governmental organizations. Moreover, the office governs The Board of European Union Compliance, Counselling and Guidance
• To ensure an active participation of the governorships to EU accession process
• To follow fully implementations of administrative and legal reforms carried out within this framework
• To enable a better understanding of the EU accession process among public
• To activate governorships with an effective leadership in the provinces concerning the use of EU financial resources efficiently
abmerkez@istanbul.gov.tr
Istanbul University – Cerrahpaşa
The Medicine Faculty of Health Sciences Social Service Department of Istanbul University – Cerrahpaşa which was opened in 1453, started its activities in 2010. Up to now, 20 graduate and 250 undergraduate students graduated from the university. Istanbul University – Cerrahpaşa, whose doctoral students will graduate next year, was established in 2018 by departing from Istanbul University. It is currently involved in 2 projects as a department and in 9 projects as a faculty.
iuckurumsal@istanbul.edu.tr
International Association of New Beginnings by Prevention and Treatment of Trauma (BASLANGIC)
Baslangic (International Association of New Beginnings by Prevention and Treatment of Trauma) was founded in 2017 by Dr. Berna Hocaoğlu, Dr. Menekşe Alpay and Dr. Petek Arıoğlu having graduated from Istanbul Medical Faculty. It is a non-profit organization that works especially for women and children who are traumatized. Preparing training programs for its employees, Baslangic organizes rehabilitation programs with various non-profit organizations, government departments and university hospitals.
Its long-term goals are to prepare appropriate recovery programs for traumatized individuals, to reduce traumas caused by mental illness, to increase the quality of life and to prepare a good environment for future generations. It has a volunteer team of 60 people consisting of doctors, nurses and psychologists.
info@baslangic.org
Humanity and Longevity Ltd. – Bulgaria
The organization was founded in Sofia at the beginning of 2013 by various professionals. Establishment activities focus on elderly, disabled individuals, socially disadvantaged people, families at risk and individuals in need of care. This organization has a complex where various social services are provided; It meets the needs of service users by providing accommodation and quality care for elderly people by creating good conditions for active participation in social life.
Thanks to sub-organizations such as Temporary Accommodation or Community Support Centers, the daily needs of adults who have no place to stay are met; hot meal, medical surveillance and community inclusion services are provided for elderly and disabled people. Medical support is provided to adults with dementia and / or Alzheimer's disease whose state has been confirmed by a medical certificate. There are also social services for at-risk and disadvantaged children and families. The organization team includes social workers, psychologists, doctors, nurses and support staff.
dylgoletie@abv.bg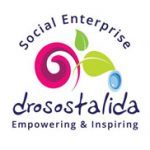 Social Cooperative Enterprise Drosostalida – Greece
It is a non-governmental organization established to educate, support, guide individuals from different zones and conduct various research activities. Drosostalida, which mostly works with disadvantaged young people, aims to ensure that these individuals integrate into society and business life more easily. This includes education, training, planning, organizing and preparing training programs, providing supportive training and seminars in a wide variety of areas, such as increasing the use of traditional or new methods, basic skills in the field of culture, health, knowledge-education, digital skills and technology.
The core team consists of 5 specialists who prioritize to support the disadvantaged groups to help them continuing their lives independently, to support them in the social field with the necessary training and studies which make them be able to work, and to get them acquainted with information and communication technologies.
drosostalidaeu@gmail.com
YouNet – Italy
YouNet was officially established in May 2010. It is a dynamic non-profit organization. YouNet collaborates with individuals, informal groups, associations, local institutions, universities, foundations, public or private organizations who share the goal of creating a more just, equitable and more supportive society. It provides planning, financing, organization of small, large or very large projects with local or international financing and takes part in the realization of the related projects.
It mostly carries out studies to support disadvantaged groups in various fields. It carries out projects and carries out activities for individuals with limited opportunities compared to the rest of the society, such as previously convicteds, young individuals living in rehabilitation centers and migrants. It informs these people about issues such as education and working abroad that will increase the intercultural interaction.
younet.re@gmail.com
Stichting Anatta Foundation – The Netherlands
This organization, which was founded in the Netherlands, is still a new formation, but it is involved in EU-scale studies. The team of volunteers, who come together from many different sectors such as psychologists, educators, social researchers, life coaches, multimedia experts, entrepreneurs, works to create the future they want to be a part of. The working areas of the organization are strengthening mental health, protecting nature and increasing the individual's interaction with nature.
thomas@anattafoundation.org
Youth For Equality – Slovakia
YE is a local youth initiative organization established in Slovakia to develop activities at local level with positive changes for education, labor market, protection of human rights, personal and professional development. YE organization organizes educational activities, events and workshops for youth and community integration. It promotes social integration through the integration of young and disadvantaged people into the labor market. It provides advice and organizes local youth workshops to provide information on different education and career opportunities at local, national and international levels.
yeslovakia@gmail.com
2019-2­-TR01-KA205-078707
Funded by the Erasmus+ Program of the European Commission.
However, European Commission and Turkish National Agency cannot be held responsible for any use which may be made of the information contained therein.